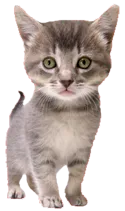 We're pleased to offer the following services at Glenvilah Veterinary Clinic:
Wellness exams
Sick pet exams
Senior pet and geriatric care
In-house laboratory diagnostics
Surgery
Routine dentistry
Digital radiography including dental
Microchipping
Sedated grooming
Fully stocked pharmacy
Visiting mobile ultrasound
Our appointment book is computerized, which allows us to efficiently make appointments for you and your pet. Our receptionists and team will attempt to accommodate all requests to the best of our ability.
USDA International Health Certificates
If you are planning an exciting international trip and want to take your pet with you give us a call. Both Dr. Greenblat and Dr. Fu, are USDA accredited veterinarians, and are licensed to issue international health certificates. Contact us as soon as you know your plans as some countries require preparation up to 6 months in advance.
To find specific information about your country of destination's travel requirements visit the USDA website